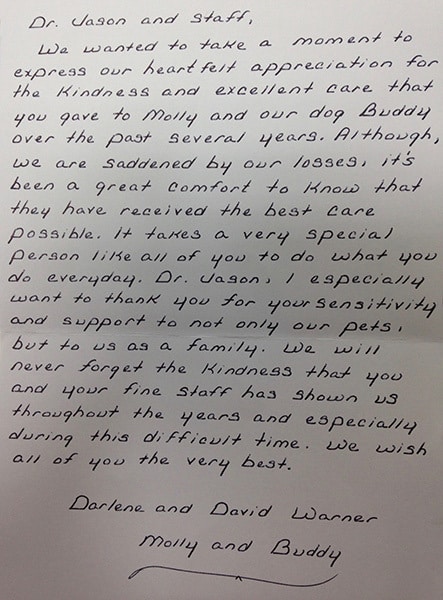 Dan and I have to say… Thank You to all the Staff at Animal Hospital of Palm Bay….
As Hard of a Day it was for us… Everyone was Just so Gracious and Wonderful to our Beloved Beau. We did not have to even take him out of the truck and put him through more agony. They came out with a stretcher, let us spend our time with him and gave him even more Love through it all and huge hugs. I am so Grateful to have found a caring Veterinarian right away after moving down here…. We have been with them since June but I will not take any of our Pets anywhere else. I can't Thank them enough for working us in last minute and making sure our Beau and us were treated with all the very best Respect, Love and Concern….. <3
– Lora and Dan P., Facebook

Always friendly, always caring, always patient. Dr. Jason saved my Great dane's life when his stomach flipped. We swear by these people.
– David Hippie S., Facebook

I found a five week old kitten in the road today. He had just missed being killed by a car when I stopped and picked him up. He was so frightened and I couldn't tell if he was hurt, so I took him to our Vet, the Animal Hospital and the staff there was wonderful. They took him in and were going to check him out, and take care of him. We've been customers of theirs for years and this is WHY we stay with them. They are GREAT! By the way, I named the little guy Highway, because that's where I found him.
– Joel T., Facebook

The staff and Dr. Rodriguez were very kind. I don't think I've ever had a vet spend so much time with my animals. As busy as I know he was, Dr. Rodriguez answered all my questions and was very involved. I really appreciated this. Prior vets I saw in the past, you were lucky if you got 5 minutes with them.
– Jillian Nicole H., Facebook

THE BEST animal care. Staff was amazing and so kind. They really care for animals here ♡ highly recommended.
– Corey K., Facebook

Super friendly staff and vets. Very helpful and very clean facility. Great neighborhood Vets and fair prices
– Saskya V., Facebook
I have never found a vet's office that I felt so comfortable with in my life. All three of my dogs are seen here and they absolutely love it. They are excited to see the staff and the vet and don't ever try to hide like they used to when going to the vet. Both Dr. Jason and Dr. Rodriguez are a pleasure to be around and you can really tell the compassion they have for animals. They are both so knowledgeable and the rest of the staff is awesome as well. I would recommend this office to any of my friends or family without thinking twice!
– Sara V., Google

They take care of all my animals and what they need as in shots teeth cleaning surgery whatever they are real great place
– Larry Y., Google

My family and I had the pleasure of having Dr. Jason work with our two Blood Hounds. Leroy & Bella. I can't begin to explain how passionate Dr. Jason was with us and our dogs. His demeanor just walking into the room was so honest, Kind, and welcoming. Although my story did not end as all fairy tales do, My family is so thankful to have found him…He seemed like he would not want a fly in pain… and this meant SO much to us when we had to make our decision. We've never been struck as hard as we had been when we were told our dogs were suffering to the point of sending them off. In fact I'm crying now, But we have got to give credit to these strong individuals that help our pets to the  other side. To have to make these decisions, stress about both the animals well being and the owners, It cannot be easy ! and I can easily say Dr Jason is a better man than I. If you don't make an appointment with your friend… or your skeptical. Please… take my word for it, go and talk to Dr. Jason for a couple minutes and you will see what i mean. The staff ? why can't MY own doctors be as friendly as them ? they are so knowledgeable, they call you for check ups and appointment reminders. Remember your names and check you in before your even in the door ! just amazing !  Leroy And Bella. I can't describe the feelings i have had since your passing, but i do remember that the animal hospital was like the dog park for you both, bursting out of the garage door to the vehicle in hopes of going for a ride to the clinic. Bella even with struggling to see just LOVED all the attention she got while there. We will never forget you both… And as for the Animal Hospital… I feel bad that i don't get to see you all again ! We will never forget you all either. After almost 8 years of searching for a veterinary office we FINALLY find one, and don't have a pup to go, but its ok as we knew our pups were in amazing hands. May the new year bring continued success to you all ! and one more time… Thanks again. Preston & Lauren H.
– Preston H., Google

Have taken our Husky here since she was a puppy. Laika loves going, the doctors and staff are first class and very knowledgable.  They don't  try to up sell you on products but will give you honest feedback and suggestions on anything you may have questions about.  Top notch and would recommend to anyone.
– Mike S., Google

Dr Jason and staff were very kind and caring with our kitty at her first visit. You can tell these folks love animals. All our options for vaccinating, microchipping etc were reviewed with pros and cons. We felt very informed, but never pressured. I also thought the fees were reasonable for a new cat visit.
– Beth C., Google